The average annual temperature of Alabama is 65°F and it is classified as having a humid subtropical climate. Summers are typically within the high 60s to low 90s and winters have temperatures from the high 60s to low 30s. Although temperatures typically don't reach extremes, Alabama summers can become quite hot and precipitation can become generous during the summer and early fall. Professionals with an Alabama HVAC license are heavily sought after in this state for maintain homes with working AC during the scorching heat of the summer.
Sponsored Listings
Alabama HVAC License Requirements
The Alabama Board of Heating, Air Conditioning, and Refrigeration Contractors regulates the licensure of HVAC technicians.
HVAC technicians in Alabama must be licensed to be able to practice legally in the state. Technicians new to the field must either graduate from a two year or community college with an approved Heating and Air Conditioning or Commercial Refrigeration curriculum or they must complete 3,000 hours of coursework or on the job work experience.
Alabama practices reciprocity with the states of Louisiana, Tennessee, and Mississippi and honors HVAC technicians who have licenses from these states. HVAC contractors completing the reciprocity application must submit notarized application forms and a pay a processing fee of $165.00 if they're currently active status or $82.50 if they're inactive. The application should also include a $15,000 Performance Bond in the name of the business where the contractor is employed.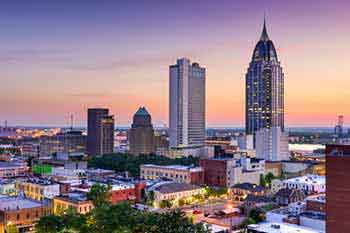 Alabama HVAC Education
There are 17 colleges and technical schools in Alabama that provide HVAC education. Schools with HVAC Excellence accreditation include George C Wallace State Community College-Hanceville, J F Drake State Technical College, John C Calhoun State Community College, and Lawson State Community College-Birmingham Campus. Programs and schools with PAHRA accreditation include Alabama Power Company, Bevill State Community College, and Gadsden State Community College.
Sponsored Search
Alabama HVAC License Exam Requirements
The test for HVAC licensure in Alabama costs $125 and is paid to the Alabama Board of Heating, Air Conditioning, and Refrigeration Contractors. The test consists of 80 multiple choice questions and must be taken with four hours. A score of 66.25 percent% is required to pass. The test is administered in the cities of Birmingham, Huntsville, Mobile, and Montgomery.
The Refrigeration section of the test contains 60 questions and HVAC contractors must answer 40 questions correctly to pass. The test must be completed within 150 minutes.
Additional Requirements
After the initial licensure is obtained, HVAC technicians and contractors must complete continuing education courses in order to maintain their license in Alabama.
HVAC contractors are also required to possess a performance bond of $15,000 in order to maintain active status as a contractor.
Alabama EPA Section 608 Certification
The Environmental Protection Agency (EPA) requires all HVAC technicians that work with refrigerants to be certified. In order to obtain EPA certification, HVAC technicians in Alabama must take an exam which has 80 multiple choice questions that must be completed within 3 hours. A score of 70% is required to pass the exam and the exam fee is $120.
The three different EPA certification types that HVAC technicians can acquire are Type I, II and III. Type I limits HVAC technicians to working on appliances which contain no more than five pounds of refrigerant. Type II permits HVAC technicians to perform work on high pressure appliances. Type III limits HVAC technicians to working on low-pressure appliances. This certification is transferable among all states and does not expire.
Alabama HVAC Salary
The average salary for professionals with an Alabama HVAC license is around $37,000 with the top 10% earning over $58,000 per year. Cities including Birmingham, Sylacauga, and Tuscaloosa typically pay the highest rates for HVAC professionals.
Sponsored Search