Arkansas is known for having a humid, subtropical climate with average year round temperatures ranging from the low 40s during the winter up into the mid-80s during the summer. Although the winter months tend to be fairly mild, summers in Arkansas can be extremely muggy and uncomfortably humid keeping professionals with an Arkansas HVAC license extremely busy during the months of May through September due to these conditions.
Sponsored Listings
Arkansas does not require HVAC technicians to obtain licensure but HVAC contractors are required to obtain one of several options for licensing issued through the Arkansas Registrar of Contractors.
Arkansas HVAC License Requirements
HVAC professionals in Arkansas either work as HVAC technicians or obtain licensure to work as HVAC contractors. HVAC technicians in Arkansas are not required to obtain licensure themselves but must work directly under a HVAC contractor. In addition, HVAC technicians must register with the Department of Health and pay a registration fee of $25 each year.
HVAC professionals who plan to become contractors must work for at least 2 years as a HVAC technician or acquire 2 years of HVAC education approved by the Arkansas HVACR Board prior to obtaining licensure and they must pass an examination. Typically, individuals who meet the 2 year educational requirement are encouraged or required to work for at least 6 months before they can become contractors.
The license options available for HVAC contractors include the Class A, B, C, D, E, or L license.
Arkansas HVAC Class A License
The Class A license allows HVAC contractors to perform all types of HVAC work without any limitations.
Arkansas HVAC Class B License
The Class B license limits HVAC contractors to performing work on systems which have either a maximum of 15 tons of cooling capacity per unit, a maximum of 1 million BTUH heating input per unit, or refrigeration systems that have a maximum of 15 HP per unit.
Arkansas HVAC Class C License
The Class C license places the same capacity limit on air conditioning, heating and refrigeration systems as the Class B license but prohibits contractors from installing or replacing HVAC equipment.
Arkansas HVAC Class D License
The Class D license applies to HVAC related sheet metal work and places no limitations on system capacity. However, contractors with this license are prohibited to sell, install, or service HVAC equipment and systems.
Arkansas HVAC Class E License
The Class E license applies to performing refrigeration work and does not place limitations on system capacity. However, similar to Class B and Class D, contractors may not sell, install, or service HVAC equipment.
Sponsored Search
Arkansas HVAC Class L License
The final license option available to HVAC contractors is the Class L license which is available to contractors who are 65 and older. This license does not expire and allows contractors to work on systems with a maximum capacity of 15 tons of cooling capacity per unit, 1 million BTUH heating input per unit or refrigeration systems of 15 HP per unit. This license does not allow HVAC contractors to install or replace HVAC equipment. The fees for each license class are $200, $150, $100, $150, $150 respectively and the Class L license is free.
Each license must be renewed every year and although there is currently not a requirement for continuing education for renewal there is a possibility that this will be changed in the near future.
In addition to the above HVAC contractor license options, HVAC contractors may also be required to obtain a state contractor license if they complete projects with a value exceeding $50,000. Individuals who obtain this license must also carry workers' compensation coverage, obtain either a surety or cash bond worth $10,000, and be currently licensed as either a Class A or B HVACR contractor. There is also a $100 filing fee for this license and individuals must pass the Arkansas Business & Law Test.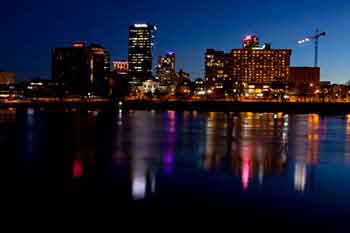 Arkansas HVAC Education
Arkansas has numerous programs that offer HVAC education including Arkansas Northeastern College, Arkansas State University, Arkansas Tech University, Crowleys Ridge Technical Institute, National Park College, North Arkansas College, Northwest Technical Institute, Pulaski Technical College, Southeast Arkansas College, and University of Arkansas Community College. Out of these programs both Arkansas State University and Arkansas Tech University have HVAC Excellence accreditation.
Arkansas HVAC Exam Overview
The first exam required for all Arkansas HVAC contractors is the trade exam for Heating, Ventilation and Air Conditioning. The trade exam is the AZ R-39/C-79 Air Conditioning and Refrigeration (Residential/Commercial) exam and is 210 minutes long. HVAC professionals who also take the solar exam will be given an addition 75 minute exam along with the trade exam.
The second mandatory exam for licensure in Arkansas is the Arkansas Contractors Law and Business Exam. The exam lasts for 180 minutes and is made up of 80 questions. A score of 70% is required to pass.
Arkansas EPA Section 608 Certification
The Environmental Protection Agency (EPA) requires all HVAC technicians that work with refrigerants to be certified. In order to obtain EPA certification, HVAC technicians in Arkansas must take an exam which has 80 multiple choice questions that must be completed within 3 hours. A score of 70% is required to pass the exam and the exam fee is $120.
The three different EPA certification types that HVAC technicians can acquire are Type I, II and III. Type I limits HVAC technicians to working on appliances which contain no more than five pounds of refrigerant. Type II permits HVAC technicians to perform work on high pressure appliances. Type III limits HVAC technicians to working on low-pressure appliances. This certification is transferable among all states and does not expire.
Arkansas HVAC Salary
HVAC technicians in Arkansas earn an average salary of around $36,600 per year with the top 10% earning over $55,700 annually. Cities which pay HVAC professionals the most include Fort Smith, Fayetteville, Springdale, Rogers and Bentonville with annual salaries ranging from $35,000 to $60,000.
Sponsored Search