Illinois has a large variation in respect to its weather and is known for its frigid winters and extremely humid summers. Winters in Illinois have temperatures ranging from the high teens to high 40s and the summers range from the low 50s up into the mid-80s. HVAC professionals in Illinois remain in constant demand throughout the entire year due to the state's capacity for a wide range of temperatures and climatic conditions.
Sponsored Listings
Illinois does not require entry to mid-level HVAC professionals to obtain licensure prior to entering the workforce. However, the state does require HVAC contractors to obtain licensure at the city or county level prior to completing work. Different cities and localities may set their own HVAC licensing regulations and some require HVAC professionals to obtain a general contractor license instead of an HVAC specific contractor license.
HVAC professionals are typically required to obtain a contractor license when projects surpass $1,000. Usually, HVAC contractors must obtain a business license along with liability insurance and a surety bond. Additionally, it is generally required to have a credit check and pass an applicable exam related to contractor's field of work.
Illinois HVAC License Options
In most cases, HVAC professionals working in Illinois will need to obtain either a general contractor license or a HVAC specific contractor license where applicable. Cities, such as Chicago, have multiple contractor license classifications available including Class A, Class B, Class C, Class D, and Class E which are based on the overall value of a project. Class A licensure allows HVAC contractors to work on projects of all values and has no monetary limit. Class B licensure limits HVAC contractors to working on projects worth up to $10,000,000. Class C licensure limits HVAC contractors to working on projects worth up to $5,000,000. Class D licensure limits HVAC contractors to working on projects worth up to $2,000,000. Class E licensure limits HVAC contractors to working on projects worth up to $500,000. The fees associated for each classification are $2000, $1000, $750, $500, and $300 respectively.
Sponsored Search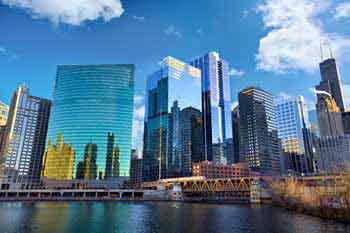 Illinois HVAC Education
There are numerous options for HVAC education in Illinois with several schools having either PAHRA or HVAC Excellence accreditation. Schools which have PAHRA accreditation include College of Lake County, Elgin Community College, Illinois Central College, John A Logan College and Oakton Community College. Programs which have HVAC Excellence accreditation include Global Tech Training LLC and Midwest Technical Institute.
Illinois HVAC Exam Overview
Different cities in Illinois have their own required exams for HVAC professionals. Some of the cities which have distinct exams include Evanston, Elgin and Rock Island. Evanston requires HVAC professionals at all levels of expertise to pass the International Mechanical & Fuel Gas Codes exam. This exam is open book and costs $100. Elgin requires HVAC professionals to take an exam provided by the Department of Community Development. This exam lasts up to 4 hours to complete and costs $100. Rock Island requires its HVAC professionals to take one the several PROMETRIC exams available prior to obtaining licensure. Exams provided by PROMETRIC include Master Electrical, Journeyman Electrical, Master Unlimited Air Conditioning, Master Mechanical, Commercial Air Conditioning, Residential Air Conditioning, and Low Pressure Boiler. Each exam requires a 75% in order to pass.
Illinois EPA Section 608 Certification
The Environmental Protection Agency (EPA) requires all HVAC technicians that work with refrigerants to be certified. In order to obtain EPA certification, HVAC technicians in Illinois must take an exam which has 80 multiple choice questions that must be completed within 3 hours. A score of 70% is required to pass the exam and the exam fee is $120.
The three different EPA certification types that HVAC technicians can acquire are Type I, II and III. Type I limits HVAC technicians to working on appliances which contain no more than five pounds of refrigerant. Type II permits HVAC technicians to perform work on high pressure appliances. Type III limits HVAC technicians to working on low-pressure appliances. This certification is transferable among all states and does not expire.
Illinois HVAC Salary
HVAC professionals in Illinois earn on average $52,000 per year with the top 10% earning over $60,800 annually. Cities with the high earnings for HVAC professionals include Kankakee, Springfield, Peoria, Chicago and Rockford which have an annual salary range of $50,000 to $80,000.
Sponsored Search