HVAC technicians perform a variety of jobs within the HVAC field which encompass a broad range of disciplines and skills. In addition to aiding the installation, maintenance and repair of HVAC systems HVAC mechanics also play an important role in temperature and air control. Unlike HVAC mechanics who are typically unlicensed and have either no college education or do not have a 4 year degree, HVAC technicians are typically licensed professionals who have completed a 4 year degree program within their specialty and have also obtain certification and licensure. HVAC technicians perform all of the duties which HVAC mechanics are generally responsible for and much more. It is essential for those seeking to become HVAC technicians to have extensive knowledge in the areas of electricity, circuitry, mechanics, physics, and record keeping.
Sponsored Listings
HVAC Technician License and Certification
Prior to working as HVAC technicians professionals must meet other requirements. HVAC mechanics must obtain EPA Section 608 Technician Certification. This certification is offered in the forms of Type I, II, III or Universal which span from small appliances of 5lbs of less of refrigerant up to certification which encompasses appliances of varying pressures and refrigerant content. In addition, most HVAC technicians obtain state level general HVAC licensure. However, it is critical for professionals to check with both the state level and local level requirements on licensing for their particular state in case there are additional licensing requirements. Certification for HVAC technicians may be obtained through North American Technician Excellence, HVAC Excellence, or the Refrigerating Engineers and Technicians Association.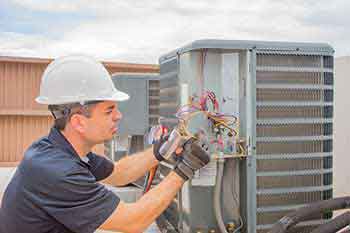 HVAC Technician Training and Education
HVAC technicians are required at minimum to possess either a high school diploma or GED prior to starting work, however it is most common for technicians to have some form of a college education or apprenticeship training. In most cases, HVAC technicians will obtain a full 4 year degree within their specialty prior to obtaining licensure and certification. In lieu of completion of an accredited HVAC program HVAC technicians may instead complete a 3 to 5 year on-the-job apprenticeship program prior to obtaining licensure and sitting for the HVAC exam. Those who choose to pursue the apprenticeship route for meeting educational and work experience requirements may find opportunities within organizations such as Air Conditioning Contractors of America, Inc., Associated Builders and Contractors or the US Department of Labor Apprenticeship USA Program.
HVAC Technician Salary
HVAC technicians earn an average salary of over $45,000 per year with the top 10% of professionals earning $70,000 or more each year. States which pay HVAC technicians the highest salaries include New York, Massachusetts, Maryland, California, and Hawaii with most technicians earning well over $60,000.
Sponsored Search