Iowa is known for having a wide variation in its yearly temperatures ranging anywhere from the low teens during the winter up into the high 80s during the summer. Not only does the state experience hot, humid summers which have large bouts of precipitation but it also faces very brisk winters with heavy snowfall. Due to this large range in weather conditions, professionals with an Iowa HVAC license are needed during all of its seasons.
Sponsored Listings
Iowa HVAC License Requirements
Iowa offers multiple license options for HVAC professionals at both the technician level as well as the mechanic level which are issued by the Iowa Department of Public Health's Plumbing and Mechanical Systems Board (PMSB). However, prior to obtaining one of these licenses individuals must be licensed as an apprentice in order to work under a master or journeyman. The fee for the apprentice license is $50 and must be renewed after 2 years.
Iowa HVAC Technician Specialty License
The HVAC Technician Specialty License is available for HVAC technicians for limited function services and covers most of the basic duties that HVAC residential technicians tend to perform. HVAC professionals who obtain this license are also required to participate in a board-approved training program or obtain NATE certification. HVAC technicians in Iowa are not required to take an exam prior to receiving licensure but they must pay a $50 license fee. In addition, Iowa offers 4 specialty license options for HVAC mechanics and installers which cover hydronics, refrigeration, sheet metal and HVAC. For those that wish to specialize in multiple fields of HVAC work there is also the option to obtain the mechanical license which covers all specialties.
Iowa HVAC Mechanical License
Individuals seeking to obtain a HVAC specialty or mechanical license must enroll within a registered apprenticeship and meet certain requirements depending on whether they are looking to work at the journeyman or master level. Those who wish to earn a journeyman-level license in Iowa must first complete a 4 year apprenticeship program and then pass the journeyman's exam for each trade discipline.
Individuals who have a master's level HVAC license may work as contractor in Iowa by purchasing a license for $250. They are also required to obtain $500,000 of liability insurance, a $5,000 surety bond, and worker's compensation insurance.
Sponsored Search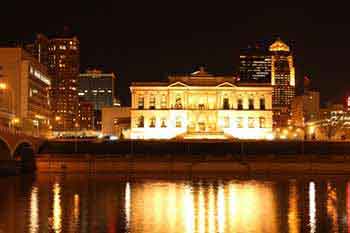 Iowa HVAC Education
Iowa has several programs which offer HVAC education including Scott Campus of Eastern Iowa Community College, Des Moines Area Community College, Ankeny, Hawkeye Community College, Waterloo, Kirkwood Community College, Cedar Rapids, North Iowa Area Community College, Mason City, and Western Iowa Tech Community College. Out of these programs the Scott Campus of Eastern Iowa Community Colleges is HVAC Excellence accredited and also the only accredited program in the state.
In addition to having multiple programs offering HVAC education, Iowa also provides several options for apprenticeship programs. The Iowa Workforce Development Apprenticeship website contains information on the apprenticeship process as well as currently registered programs within the state. HVAC Apprenticeships in Iowa generally require individuals to obtain a minimum of 144 hours classroom training each year and allow aspiring HVAC professionals to work directly under a master or journey-level HVAC-R mechanic. One of the more renowned apprenticeship programs in Iowa is offered through the Associated Builders and Contractors, Inc. (ABC) and is recognized by the United States Department of Labor Office of Apprenticeship and the Veterans Administration.
Iowa HVAC Exam Overview
In Iowa there are exams for both the HVAC journeyman and master level. The journeyman exam may be taken after an individual has completed their 4 year apprenticeship and costs $95 per specialty. The exam is open book and a score of 75% is required to pass. Individuals may take the master level exam after they have completed 2 years of work at the journeyman level. This exam also costs $95 per specialty and requires a score of 75% to pass.
Iowa EPA Section 608 Certification
The Environmental Protection Agency (EPA) requires all HVAC technicians that work with refrigerants to be certified. In order to obtain EPA certification, HVAC technicians in Iowa must take an exam which has 80 multiple choice questions that must be completed within 3 hours. A score of 70% is required to pass the exam and the exam fee is $120.
The three different EPA certification types that HVAC technicians can acquire are Type I, II and III. Type I limits HVAC technicians to working on appliances which contain no more than five pounds of refrigerant. Type II permits HVAC technicians to perform work on high pressure appliances. Type III limits HVAC technicians to working on low-pressure appliances. This certification is transferable among all states and does not expire.
Iowa HVAC Salary
HVAC technicians working in Iowa earn on average $47,800 per year with the top 10% earning $73,800 annually or more. Cities in Iowa which pay HVAC professionals at the highest rate include Cedar Rapids, Davenport, Moline, Rock Island, Des Moines, Dubuque, Iowa City and Sioux City having an average annual salary range of $48,000 to $81,000.
Sponsored Search