Minnesota is the 4th coldest state overall in the US and also ranks as the 3rd coldest state for winter. The cities of Duluth and St. Cloud are listed among the top 10 coldest cities within America and have average monthly minimum temperatures just under 2 °F. It's no wonder as to why professionals with a Minnesota HVAC license are so heavily sought after within the state and they continue to make a huge impact in maintaining comfortable conditions within both residential and commercial buildings.
Sponsored Listings
Minnesota does not have requirements for HVAC licensing at the state level, however many cities have their own requirements and licensing options. HVAC professionals who become mechanical contractors do not have to obtain licensure but are required to file a $25,000 bond with the Department of Labor and Industries.
Minnesota HVAC License Requirements
Several cities in Minnesota offer HVAC licensing options at both the journeyman level and master level.
Minnesota HVAC Journeyman License
Generally, HVAC professionals looking to obtain a journeyman license must obtain 4 years of work experience at the apprentice level as well as a minimum of 144 hours of education per year. Alternatively, cities such as St. Paul may allow HVAC professionals to forego the educational requirement if they have 7 years of work experience and pass the certification exam.
Minnesota HVAC Master Level License
HVAC professionals looking to obtain a master level license must have at least 1 year of work at the journeyman level as well as a minimum of 5 years of total applicable HVAC work experience. Most cities also require those interested to pass the certification exam.
Sponsored Search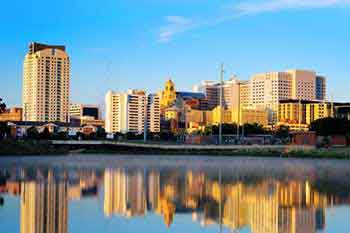 Minnesota HVAC Education
Minnesota offers numerous programs in HVAC education ranging from certificate to degree programs. Some of the more prominent HVAC schools in Minnesota include Minnesota Automotive Institute, Minnesota Western College, Cochise College, East Valley Institute of Technology, GateWay Community College, Mesa Community College, Mohave Community College, Pima Community College, The Refrigeration School and Rio Salado College.
Minnesota HVAC Exam Overview
Cities in Minnesota which offer journeyman and master level licensure typically require applicants to pass either the Certificate of Competency exam or a HVAC trade exam. These exams are generally open book with 70–100 multiple choice questions and last between 3-4 hours. The exams require either a score of 70 or 75% to pass depending on whether the applicant in obtaining a journeyman or master level license.
Minnesota EPA Section 608 Certification
The Environmental Protection Agency (EPA) requires all HVAC technicians that work with refrigerants to be certified. In order to obtain EPA certification, HVAC technicians in Minnesota must take an exam which has 80 multiple choice questions that must be completed within 3 hours. A score of 70% is required to pass the exam and the exam fee is $120.
The three different EPA certification types that HVAC technicians can acquire are Type I, II and III. Type I limits HVAC technicians to working on appliances which contain no more than five pounds of refrigerant. Type II permits HVAC technicians to perform work on high pressure appliances. Type III limits HVAC technicians to working on low-pressure appliances. This certification is transferable among all states and does not expire.
Minnesota HVAC Salary
The average salary for HVAC technicians in Minnesota is $51,000 per year with the top 10% earning over $80,000 per year. Cities which pay HVAC professionals the most include Fargo, Mankato, Minneapolis, St. Paul, Bloomington and Rochester with annual salaries ranging from $47,000 to $88,500.
Sponsored Search