Mississippi has an average annual temperature of 64.55°F with temperatures ranging from 35°F to 92°F throughout the year depending on the season. Although residents within the state typically enjoy favorable weather, summers in Mississippi tend to last for a long time and create hot, humid conditions. Winters are generally much shorter compared to summers but they can be quite chilly at times. Professionals with a Mississippi HVAC license are generally sought the most during the long summer months but their skills are also needed when temperatures drop for winter.
Sponsored Listings
Currently, the state of Mississippi does not require continuing education in order to sit for the required exams prior to obtaining an HVAC license. However, in order to learn and develop the skillset necessary for performing as an HVAC professional it is extremely helpful to obtain some form of education related to the HVAC field of work whether it be an apprenticeship, a college degree or a certificate. Noteworthy schools that provide this type of education include Northwest Mississippi Community College, Delta Technical College and Hinds Community College.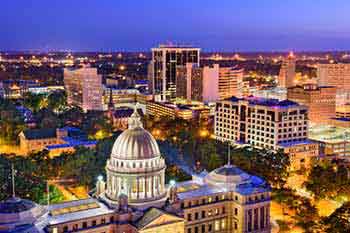 Mississippi HVAC License Requirements
HVAC contractors in Mississippi are required to obtain a license issued by the Mississippi State Board of Contractors prior to performing any HVAC related work. However, HVAC technicians working as employees of a licensed contractor do not require a license in order to perform HVAC related jobs.
HVAC contractors in Mississippi are required to obtain the Mechanical Work Certificate by passing required exams if they plan to work on privately funded jobs over $100,000 in value or publicly funded jobs over $50,000 in value. Currently, continued education is not required to obtain an HVAC license in Mississippi.
The two categories of state licensing for HVAC contractors in Mississippi are commercial and residential. The application fee for a commercial license is $200 and the residential license fee is $50.
Mississippi HVAC Exam Requirements
HVAC contractors in Mississippi are required to take both the trade exam and the business and law exam before performing HVAC work within the state.
The HVAC exam has 80 questions and a 4-hour time limit. A score of 70% is required to pass the exam.
The Law and Business Management exam has 50 questions and a 2-hour time limit. A score of 70% is required to pass the exam.
Mississippi has reciprocity with Alabama, Arkansas, Louisiana, Tennessee, and South Carolina where HVAC professionals that have been previously licensed within any of the states may obtain their license to work in Mississippi without retaking exams. This is only applicable for HVAC professionals that have worked a minimum of 3 consecutive years.
Sponsored Search
Mississippi EPA Section 608 Certification
The Environmental Protection Agency (EPA) requires all HVAC technicians that work with refrigerants to be certified. In order to obtain EPA certification, HVAC technicians in Mississippi must take an exam which has 80 multiple choice questions that must be completed within 3 hours. A score of 70% is required to pass the exam and the exam fee is $120.
The three different EPA certification types that HVAC technicians can acquire are Type I, II and III. Type I limits HVAC technicians to working on appliances which contain no more than five pounds of refrigerant. Type II permits HVAC technicians to perform work on high pressure appliances. Type III limits HVAC technicians to working on low-pressure appliances. This certification is transferable among all states and does not expire.
Additional Requirements
Professionals with a Mississippi HVAC license are required to submit a current financial statement which documents that they have a net worth of at least $20,000 as well as proof of general liability insurance and workers' compensation insurance.
Mississippi HVAC Salary
The average annual salary for professionals with a Mississippi HVAC license is $37,000 with the top 10% earning over $53,000 per year. The salaries of HVAC professionals are in the top 51% of all careers in the state. HVAC professionals working in Starkville earn an average salary for $30 per hour.
Sponsored Search