New Jersey is known for having a somewhat moderate climate throughout most of the year and has an average year-round temperature of 54.9°F. However during the winter months temperatures can hit lows of the 20s from December through February and summers may reach up into the low 90s during July. Professionals with a New Jersey HVAC license remain busiest during the more brisk winter months but are extremely helpful when summer temperatures reach their peak towards the end of the season.
New Jersey HVAC License Options
New Jersey does not require HVAC technicians to obtain licensure, however HVAC contractors must obtain licensure through the New Jersey State Board of Examiners of Heating, Ventilating, Air Conditioning and Refrigeration (HVACR) Contractors. HVAC contractors in New Jersey have several options for requirements in order to obtain a Master HVACR Contractor license. Contractors may either obtain a bachelor's degree in the HVAC field along with 1 year of work experience or obtain a degree in a similar field along with 3 years of work experience. Alternatively, HVAC contractors may complete a training program along with 2 years of work experience or they complete a 4 year long apprenticeship and obtain 1 year of work experience. Following the successful completion of the contractor exam, HVAC contractors will also be required to obtain both a $3000 guarantor bond as well as $500,000 of liability insurance prior to receiving their license.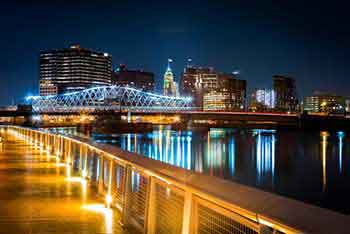 New Jersey HVAC Education
New Jersey has several renowned programs which offer HVAC education. Two of the more prominent programs include Lincoln Technical Institute which has HVAC Excellence accreditation and Monmouth County Vocational School District which has PAHRA accreditation. Anyone that wants to pursue HVAC education at a young age may obtain HVAC training through New Jersey Pathways Leading Apprentices to a College Education (NJ PLACE). Students who enroll in this program train at the HVAC apprentice level following high school graduation while concurrently earning college credits which are transferable to the university level.
New Jersey HVAC Exam Overview
The HVACR exam is the main HVAC exam offered by New Jersey for HVAC professionals. The exam consists of 50 multiple choice questions and requires a minimum score of 70% to pass. There is a time limit of 130 minutes for the exam. HVAC contractors are also required to take the Business and Law exam which follows the same format.
New Jersey EPA Section 608 Certification
The Environmental Protection Agency (EPA) requires all HVAC technicians that work with refrigerants to be certified. In order to obtain EPA certification, HVAC technicians in North Dakota must take an exam which has 80 multiple choice questions that must be completed within 3 hours. A score of 70% is required to pass the exam and the exam fee is $120.
The three different EPA certification types that HVAC technicians can acquire are Type I, II and III. Type I limits HVAC technicians to working on appliances which contain no more than five pounds of refrigerant. Type II permits HVAC technicians to perform work on high pressure appliances. Type III limits HVAC technicians to working on low-pressure appliances. This certification is transferable among all states and does not expire.
New Jersey HVAC Salary
HVAC professionals in New Jersey earn on average $58,770 per year with the top 10% earning over $90,000 annually. Cities which pay the highest rates for HVAC workers include Atlantic City, Hammonton and Newark with average salaries ranging from $58,000 to $60,000. HVAC contractors are required to obtain licensure prior to working in New Jersey at the contractor level.