Ohio has an average yearly temperature of 52.9°F with a yearly range falling between 43°F to 63°F. Despite having a fairly moderate temperature range, winter months in Ohio can be extremely cold with some monthly lows dipping below 20°F. Summers can also get quite hot, racing up all the way into the mid-80s.
Sponsored Listings
Ohio HVAC License Options
Ohio does not have state-mandated licensing requirements for HVAC professionals working at the technician level.
Those who wish to work as HVAC contractors are required to obtain licensure through the Ohio Construction Industry Licensing Board (OCILB) once they have completed a minimum of 5 years of experience working under the direct supervision of a licensed contractor. Alternatively, they may be a registered engineer who has completed at least 3 years of applicable work experience in the HVAC field. The states of Kentucky, Louisiana, Tennessee, and South Carolina have a reciprocity agreement with Ohio and allow HVAC contractors licensed in Ohio to perform work within these states. HVAC contractors must carry a minimum of $500,000 contractor liability insurance in order to receive their license.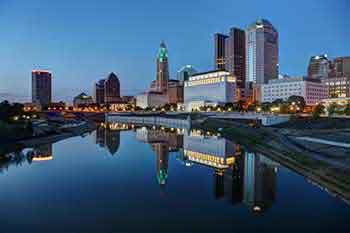 Ohio HVAC Education
Ohio has over 28 programs which offer HVAC education. The most prestigious programs in the state include the PAHRA accredited programs found at Cuyahoga Valley Career Center, Great Oaks Institute of Technology and Career Development, Miami Valley Career Technology Center, Pike County Joint Vocational School District, and RG Drage Career Center. Out of these programs Pike County Joint Vocational School District stands out due to also having HVAC Excellence accreditation.
Sponsored Search
Ohio HVAC Exam Overview
HVAC contractors must successfully pass the HVAC exam prior to obtain licensure. The exam is offered in Toledo, Dublin, Westerville, Cincinnati, Columbus, Akron, Cleveland, Lima, Marietta and Youngstown. The HVAC exam is 4 hours long and contains 100 multiple choice questions. A minimum score of 70% is required to pass. HVAC contractors must also pass the business and law exam in addition to the HVAC exam. This exam is 2 hours long and has 50 multiple choice questions. A minimum score of 70% is required to pass.
Ohio EPA Section 608 Certification
The Environmental Protection Agency (EPA) requires all HVAC technicians that work with refrigerants to be certified. In order to obtain EPA certification, HVAC technicians must take an exam which has 80 multiple choice questions that must be completed within 3 hours. A score of 70% is required to pass the exam and the exam fee is $120.
The three different EPA certification types that HVAC technicians can acquire are Type I, II and III. Type I limits HVAC technicians to working on appliances which contain no more than five pounds of refrigerant. Type II permits HVAC technicians to perform work on high pressure appliances. Type III limits HVAC technicians to working on low-pressure appliances. This certification is transferable among all states and does not expire.
Ohio HVAC Salary
HVAC technicians in Ohio earn on average $44,000 per year with the top 10% earning over $63,000 annually. Cities which pay HVAC professionals the highest rates include Columbus, Cleveland, Cincinnati, Toledo, Akron, Dayton, Youngstown, Lorain, Elyria, and Stow which have salaries that range on average from $45,000 to over $70,000 per year.
Sponsored Search