Oklahoma is known for having muggy conditions during its summers and windy, cooler conditions during its winter months. Temperatures rarely fall below the 30s during winter and tend to remain in the 80s or high throughout the months of May through September.
Sponsored Listings
Oklahoma HVAC License Options
Oklahoma HVAC licenses are available at the journeyman and contractor level. Prior to reaching the contractor level, Oklahoma HVAC professionals must initially progress from apprentices to journeymen. In order to progress from each stage to the next professionals must obtain an additional 3 years of related work experience. In some cases, completing a HVAC program may be used to reduce the work experience requirements from 3 years down to as low as 1 year.
Oklahoma HVAC Journeyman License
The Oklahoma HVAC journeyman license comes in the following categories: limited, unlimited, limited residential, refrigeration, natural gas piping, process piping, sheet metal, ground source piping, petroleum refinery piping, and medical gas. The most commonly obtained licenses are the limited journeyman, the unlimited journeyman, the limited residential journeyman and the refrigeration license. Limited journeymen may work on systems which have a maximum cooling capacity of 25 tons or heating equipment with a maximum heat input of 500,000 Btu/h per appliance. Unlimited journeymen may perform work on all systems regardless of capacity and input. Limited residential journeymen may work on systems within residential buildings that are 3 stories or less. Refrigeration journeymen may work on all refrigeration systems.
Oklahoma HVAC Contractor License
After obtaining journeyman licensure in conjunction with 3 additional years of work experience HVAC professionals may become Oklahoma HVAC contractors. Categories for contractor licenses include HVAC limited, HVAC unlimited, refrigeration, natural gas piping, process piping, sheet metal and ground source piping. Contractors are required to pass a specialty exam as well as the business and law exam. Additionally, they must obtain a $5,000 Corporate Surety Bond and a $50,000 Certificate of Insurance.
Sponsored Search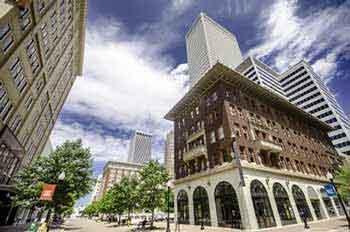 Oklahoma HVAC Education
Oklahoma has over 17 programs which offer HVAC education. Programs with PAHRA accreditation include Autry Technology Center, Eastern Oklahoma County Technology Center, Indian Capital Technology Center, Meridian Technology Center, Moore Norman Technology Center, Southern Oklahoma Technology Center, and Tulsa Technology Center. Red River Technology Center is the only school which has HVAC Excellence accreditation.
Oklahoma HVAC Exam Overview
The HVAC exam is 4 hours long and contains 100 multiple choice questions. A minimum score of 70% is required to pass. HVAC contractors must also pass the business and law exam in addition to the HVAC exam. This exam is 2 hours long and has 50 multiple choice questions. A minimum score of 70% is required to pass.
Oklahoma EPA Section 608 Certification
The Environmental Protection Agency (EPA) requires all HVAC technicians that work with refrigerants to be certified. In order to obtain EPA certification, HVAC technicians must take an exam which has 80 multiple choice questions that must be completed within 3 hours. A score of 70% is required to pass the exam and the exam fee is $120.
The three different EPA certification types that HVAC technicians can acquire are Type I, II and III. Type I limits HVAC technicians to working on appliances which contain no more than five pounds of refrigerant. Type II permits HVAC technicians to perform work on high pressure appliances. Type III limits HVAC technicians to working on low-pressure appliances. This certification is transferable among all states and does not expire.
Oklahoma HVAC Salary
Professionals with an Oklahoma HVAC license earn on average $42,000 per year with the top 10% earning over $62,000 annually. Cities which pay the highest rates include Oklahoma City, Tulsa, and Broken Arrow with average annual salaries ranging from $44,000 to over $93,000.
Sponsored Search