Pennsylvania has an average annual temperature of 55.85°F with temperatures generally ranging from the mid-20s to high 80s. The summer months typically have very humid conditions but winters can be extremely cold and some cities may experience temperatures as low as 0 °F at night. Due to the large variation in weather, professionals with a Pennsylvania HVAC license stay in constant demand and never face a shortage of work at any point of the year.
Sponsored Listings
Pennsylvania HVAC License Options
Pennsylvania does not require state level licensure or certification for HVAC professionals but some cities may have their own requirements prior to obtaining work. An example of this is the city of Pittsburgh requiring the implementation of a HVAC licensure examination for HVAC contractors. HVAC contractors in Pittsburgh must obtain 4 years of work experience along with general liability insurance and proof of registration prior to sitting for the Pennsylvania Standard Master Mechanical Contractor exam. Additionally, cities such as Philadelphia requires licenses for HVAC technicians including the Sheet Metal Systems license, Engineer License for either Grade A Boiler, Stationary and Refrigeration or Grade B Refrigeration Engineer, and the Warm Air Installer license.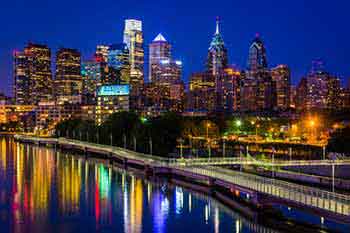 Pennsylvania HVAC Education
There are several options for HVAC education programs in Pennsylvania, many of which are either HVAC Excellence or PAHRA accredited. Programs with HVAC Excellence include Berks Career and Technology Center, Bucks County Technical High School, Butler County Area Vocational Technical School, Greater Altoona Career & Technology Center, Lancaster County Career and Technology Center, and North Montco Technical Career Center. Programs with PAHRA accreditation include the Pennsylvania College of Technology of Williamsport and the Somerset County Technology Center.
Sponsored Search
Pennsylvania HVAC Exam Overview
Various exams are available for HVAC professionals to take depending on their field of work or level of experience. One of the more common exams taken in Pennsylvania is the Pennsylvania Standard Master Mechanical Contractor exam. A minimum score of 70% is required to pass the exam.
Pennsylvania EPA Section 608 Certification
The Environmental Protection Agency (EPA) requires all HVAC technicians that work with refrigerants to be certified. In order to obtain EPA certification, HVAC technicians must take an exam which has 80 multiple choice questions that must be completed within 3 hours. A score of 70% is required to pass the exam and the exam fee is $120.
The three different EPA certification types that HVAC technicians can acquire are Type I, II and III. Type I limits HVAC technicians to working on appliances which contain no more than five pounds of refrigerant. Type II permits HVAC technicians to perform work on high pressure appliances. Type III limits HVAC technicians to working on low-pressure appliances. This certification is transferable among all states and does not expire.
Pennsylvania HVAC Salary
HVAC professionals in Pennsylvania earn on average $51,000 per year with the top 10% earning almost $75,000 annually. Cities which pay the highest rates include Erie, Philadelphia, Camden, Wilmington, York, and Hanover which average salaries ranging from $53,000 to $56,000. Pennsylvania does not have certification or licensure requirements for most HVAC professionals, however some cities and localities may impose their own regulations.
Sponsored Search