HVAC refrigeration technicians are responsible for the repair, installation, and maintenance of refrigerators within both residential and commercial settings. Professionals working in this role must have an in depth knowledge of the different components of refrigerators including condensers, compressors, wiring and connections. Although refrigeration technicians have specialized training and education for refrigeration they also have extensive knowledge of other areas covering the HVAC field and can apply their knowledge and experience towards solving all kinds of HVAC related issues and needs.
Sponsored Listings
Refrigeration Technician License and Certification
Prior to working as HVAC refrigeration technicians professionals must meet additional requirements. Refrigeration technicians must obtain EPA Section 608 Technician Certification. This certification is offered in the forms of Type I, II, III or Universal which span from small appliances of 5lbs of less of refrigerant up to certification which encompasses appliances of varying pressures and refrigerant content. In addition, some HVAC refrigeration technicians must obtain some form of state or local level HVAC licensure prior to taking on work. However, it is critical for professionals to check with both the state level and local level requirements on licensing for their particular state in case there are additional licensing requirements. There are no national level requirements for refrigeration technicians so requirements may be extremely different between certain states. Certification for HVAC refrigeration technicians may be obtained through North American Technician Excellence, HVAC Excellence, or the Refrigerating Engineers and Technicians Association.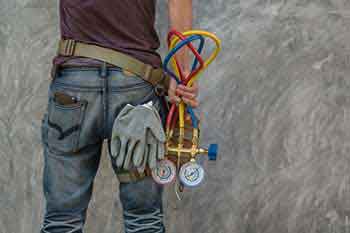 Refrigeration Technician Training and Education
Most refrigeration technicians do not need to have much education past a high school diploma or GED but may need to obtain some college education or a degree in order to advance within their career down the line. In this field hands on experience is highly valued prior to entering the work force and those are new to the role generally have complete an apprenticeship program prior to working. Apprenticeship programs for HVAC refrigeration technicians may be found at either the college setting or within a local organization.
Refrigeration Technician Mechanic Salary
HVAC refrigeration technicians earn on average over $49,000 per year. States which pay the highest rates for annual salaries include North Dakota, Illinois, Iowa, Kansas, and Washington with refrigeration technicians earning a minimum average salary of $54,000 annually.
Sponsored Search