HVAC professionals looking to work in the realm of welding will need to pursue education and training which encompass the basics of electrical currents used to create heat and bond metals. HVAC professionals who are interested in pursuing this career path will first need to obtain a high diploma or GED prior to obtaining further education or training within the field. Following the completion of higher education and training most applicants will be required to pass an exam covering welding or a closely related field and then obtain licensure prior to work.
Sponsored Listings
Education and Training Programs
Once potential workers have obtained either their high school diploma or GED they will be required to acquire some form of higher education as well as training. It is often most preferred that those entering the field obtain at least an associate's degree or graduate from either a technical or vocational trade school.
Most welding programs take less than a year to complete with some programs taking as little as 7 months. Programs are available in person as well as in a hybrid platform with most of the program being offered online and the other portion being hands-on either in the classroom or within an apprenticeship. Courses taken by most students within this type of program include the fundamentals of welding, the use of GMAW/FCAW machines and equipment, and pipe welding. Other courses may include blueprint reading, shop mathematics, mechanical drawing, chemistry, and metallurgy. Some of the most renowned welding programs can be found through the U.S. Armed Forces welding and soldering schools.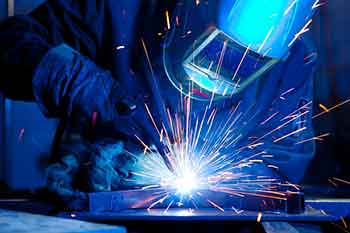 Those who are seeking apprenticeship programs for HVAC welding should look to unions such as the United Association of Journeymen and Apprentices of the Plumbing and Pipe Fitting Industry of the United States (UA) or the International Association of Sheet Metal, Air, Rail and Transportation Workers (SMART). Unions such as these and others that are similar generally offer programs which involve classroom training in conjunction with on-the-job training. Apprenticeship programs generally require up to 600 hours within the classroom and provide thorough preparation for major certifications including EPA Section 608, OSHA, First Aid/CPR, and United Association STAR Certification.
Prior to entering the work force it is highly recommended for HVAC welding specialists to obtain some form of certification. Certifications can be obtained through the American Welding Society (AWS), the American Petroleum Institute (API), and the American Society of Mechanical Engineers (ASME).
Sponsored Search