Automotive HVAC technicians are critical in maintaining optimal climate conditions within vehicles of all kinds. They may perform work on cars, vans, trucks, agricultural equipment or even commercial trucks. HVAC professionals in this role have the general responsibilities of installing, maintaining, and repairing the AC systems within vehicles but may also work with other electrical components and perform troubleshooting and risk assessment. Other duties may include conducting inventory, ordering materials, and providing customer service. Skills which are essential to completing this job include having a mechanical aptitude, the ability to read schematics, an understanding of fluid dynamics, and having computer literacy. Due to the mass numbers of people who own or drive cars automotive technicians always remain in high demand and have a constant supply of work no matter where they're located in the country.
Sponsored Listings
Automotive HVAC Technician License and Certification
There are other requirements that must be met prior to obtaining work within the AC technician realm. Automotive HVAC technicians must obtain EPA Section 609 Technician Certification, contrary to the EPA Section 608 Technician Certification that is required for other HVAC professions. In addition, different states and cities have their own specific licensing requirements for automotive technicians. It is critical for those looking to work as automotive technicians to check with both the state level and local level requirements on licensing prior to taking on work. Other forms of certification and training which may prove useful in earning potential include Automotive Service Excellence (ASE) or Society of Automotive Engineers (SAE) certifications.
Following the completion of all requirements, automotive technicians may either work under the supervision of a company or organization or they may decide to become independent contractors. The work schedules of automotive technicians depend heavily upon whether the technician works for someone or independently as well as their overall work experience and level of mastery. While a majority of automotive technicians may choose to work within repair shops others may choose to work at dealerships or rental companies.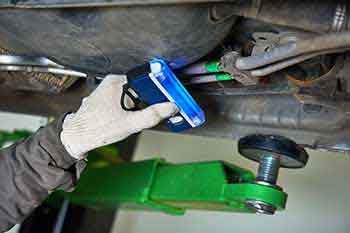 Automotive HVAC Technician Training and Education
Prior to starting work in this field most candidates should obtain a high school diploma or GED, however, it is highly recommended to obtain further education and training in order to maximize earning potential. Training programs available for this specialty typically last anywhere from 6 months up to 4 years and can be found at colleges, trade schools or apprenticeship programs. It is optimal for students to pursue an education which has National Automotive Technicians Education Foundation (NATEF) accreditation.
Automotive HVAC Technician Salary
The average salary for HVAC automotive technicians is around $43,700 with a typical range of $23,400 to $62,000 per year depending on factors such as work experience, level of education, licensure and certifications. States which pay the highest rates for automotive technicians include Alaska, Maryland, Connecticut and Washington with most professionals earning well over $50,000 per year in the field.
Sponsored Search