South Carolina is the 8th warmest state in the United States and maintains an average annual temperature of 62 degrees. Summers in this state can reach up to 90 degrees daily and winters tend to be less uniform, ranging anywhere from a high of 62 degrees to lower temperatures in the 30s and below. Due to this state having a wide range of geographical features, residents may be subject to huge differences in temperature throughout the year making professionals with a South Carolina HVAC license highly wanted and in constant demand between juggling the summer heat and the winter's freezing temperatures.
Sponsored Listings
South Carolina requires HVAC contractors to obtain a license in order to perform work legally within the state. The license is issued by the South Carolina Department of Labor, Licensing and Regulation Residential Builders Commission.
South Carolina does not require HVAC technicians to be certified.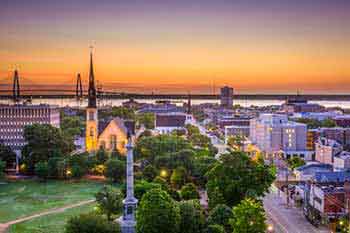 HVAC Certification in South Carolina
South Carolina offers three levels of HVAC certification.
South Carolina Residential HVAC Certification
The first type of HVAC certification is Residential HVAC which allows HVAC technicians to work on residential equipment only.
South Carolina HVAC Journey Unlimited Certification
The second type of HVAC certification offered in South Carolina is Journeyman Unlimited. This type of certification allows HVAC professionals to work on units of all sizes but they are required to work under the supervision of a master/contractor. Individuals who want this licensing option must acquire two years of experience. Those who have completed a two-year vocational program may be use their education for up to one year of required work experience.
South Carolina Master Mechanical (HARV) HVAC Certification
The third type of HVAC certification is HARV, also known as Master Mechanical. This certification allows HVAC professionals to work on all types of HVAC units and does not require supervision. Individuals that wish to work at this level must acquire four years of experience working as a journeyman, however those with ten years of experience may enter the master's level directly.
HVAC professionals that want to earn the Journeyman Unlimited certification or the HARV certification must also obtain EPA certification before performing HVAC work in South Carolina.
South Carolina HVAC Exam
HVAC contractors in South Carolina must pass both trade exam and the Business Management and Law Exam before obtaining HVAC licensure unless they currently hold a master heating and air license or currently work as a mechanical contractor.
The trade exam is a four hour exam which consists of 80 questions. A score of 65% is needed to pass and the exam fee is $100. The Business Management and Law Exam is 2 hour long exam made up of 50 questions. A score of 70% is needed to pass and the exam costs $75.
Sponsored Search
Additional Requirements
Following the successful completion of both exams, HVAC contractors in South Carolina must submit additional documentation to the Contractor's Licensing Board including a financial statement and copy of certificate for the contractor's registered corporation or partnership.
In addition, they must pay a $160 license fee and sign a $10,000 surety bond with the power of attorney attached. HVAC contractors that will perform work on jobs having a value of $5,000 or more are required to have the bond issued in their name.
HVAC contractors must renew their license every 2 years in order to continue working legally within the state.
Individuals that currently have one of the following licenses are not required to take the HVAC trade exam: South Carolina Home Builder License, South Carolina General Contractor License, South Carolina Mechanical License. Individuals may also omit taking the trade exam if they have a current Master or Journeyman City/County license obtained through examination.
Currently, there is not a continuing education requirement for maintaining a HVAC license in South Carolina.
South Carolina EPA Certification
HVAC professionals in South Carolina who want to work with any refrigerant related equipment must be certified via Section 608 of the Clean Air Act and are required to take the certification exam. South Carolina offers 3 types of EPA certification. The three different EPA certification types that HVAC technicians can acquire are Type I, II and III. Type I limits HVAC technicians to working on appliances which contain no more than five pounds of refrigerant. Type II permits HVAC technicians to perform work on high pressure appliances. Type III limits HVAC technicians to working on low-pressure appliances.
Additionally, there is the EPA Section 608 Universal Certification which allows HVAC contractors to work on all of the above systems.
South Carolina HVAC Salary
The average salary for professionals with a South Carolina HVAC license is around $40,000 annually with the top 10% earning over $59,000 a year. Cities with the highest earnings for HVAC professionals include Charleston, Greenville, and Columbia.
Sponsored Search