Wisconsin has an average annual temperature of around 45 °F with temperatures ranging from below 10 ° up to the mid-80s throughout the year. The state is notorious for having frigid winters and its HVAC professionals are in highest demand during the harsh winter months where temperatures constantly fall below freezing.
Sponsored Listings
Wisconsin HVAC License Options
HVAC professionals in Wisconsin are faced with varying regulations in respect to certification and licensure. The city and county level often have their own certification requirements especially for those looking to work as HVAC contractors. Wisconsin at the state level offers HVAC qualifier certification but does not have specific requirements for HVAC professionals.
The state qualifier certification meets the local level requirements for most cities and counties within the state and is issued through the Department of Safety and Professional Services' Division of Professional Credentialing. HVAC professionals who wish to obtain this certification must either have 4 years of HVAC education, 4 years of HVAC-related work experience with a minimum of 1000 hours of experience obtain per year, or a combination of HVAC education and work experience which amount to 4 years. Once applicants have met the educational and work experience requirements they must pass the HVAC Qualifier Exam after which they will be issued their certification. The HVAC Qualifier certification must be renewed every 4 years.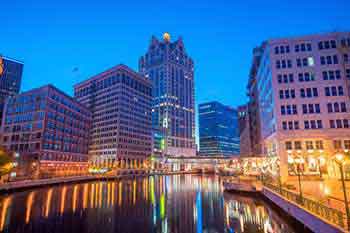 Wisconsin HVAC Education
Wisconsin has numerous programs which offer HVAC education including Milwaukee Area Technical College, Chippewa Valley Technical College, Western Technical College, Waukesha County Technical College, Wisconsin Indianhead Technical College, Madison Area Technical College, Northeast Wisconsin Technical College, Moraine Park Technical College, Gateway Technical College, Blackhawk Technical College, and Northcentral Technical College. The programs from this group with PAHRA accreditation include Blackhawk Technical College, Chippewa Valley Technical College, Moraine Park Technical College, and Western Technical College.
Wisconsin HVAC Exam Overview
HVAC professionals who are looking to obtain status as a HVAC Qualifier are required to pass an exam prior to receiving their certification. The HVAC Qualifier Exam is open book and a score of 70% is required in order to pass. The exam may be taken in either Pewaukee, Eau Claire or Appleton.
Wisconsin EPA Section 608 Certification
The Environmental Protection Agency (EPA) requires all HVAC technicians that work with refrigerants to be certified. In order to obtain EPA certification, HVAC technicians in Wisconsin must take an exam which has 80 multiple choice questions that must be completed within 3 hours. A score of 70% is required to pass the exam and the exam fee is $120.
The three different EPA certification types that HVAC technicians can acquire are Type I, II and III. Type I limits HVAC technicians to working on appliances which contain no more than five pounds of refrigerant. Type II permits HVAC technicians to perform work on high pressure appliances. Type III limits HVAC technicians to working on low-pressure appliances. This certification is transferable among all states and does not expire.
Wisconsin HVAC Salary
HVAC technicians in Wisconsin earn on average around $46,750 per year with the top 10% earning over $72,000 annually. Cities with the highest earnings for HVAC professionals include Sheboygan, Eau Claire, Bloomington, Milwaukee, Madison, and Appleton with annual salaries ranging from $45,500 up to $97,400. HVAC professionals are not required to meet HVAC specific regulations at the state level but many cities and localities enforce their own regulations and provide various forms of licensure.
Sponsored Search